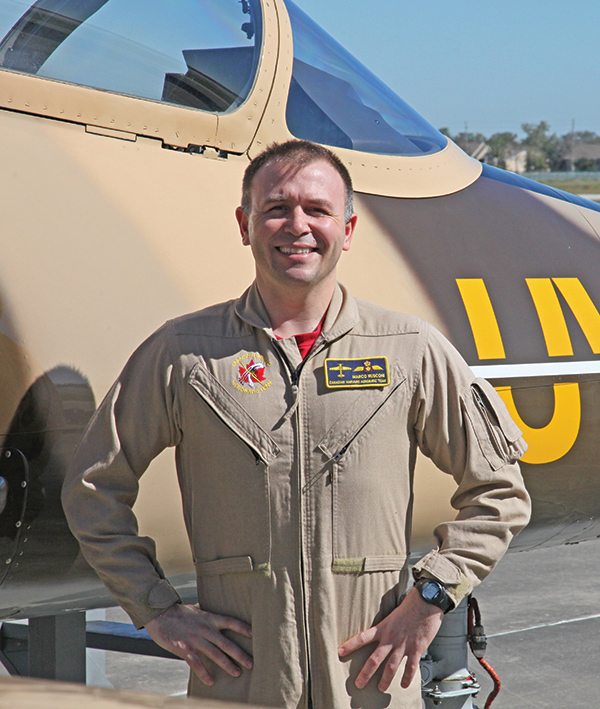 Marco Rusconi
Marco was born in Florence, Italy and grew up in a small town just north of Rome. His father was an aviator and taught Marco how to fly at a young age in the family's Tiger Moth biplane.
After that, Marco began gliding and he completed his initial flight training in Victoria, British Columbia, where he finished his secondary schooling.
Marco joined the Canadian Armed Forces in 1997, and graduated from the Royal Military College of Canada with a Bachelors in Military and Strategic Studies in 2001.
He was then assigned to NATO Flight Training in Canada's (NFTC) facility in Moose Jaw, Saskatchewan, where he flew the CT-156 Harvard II and the CT-155 British Aerospace Hawk. He graduated with his RCAF pilot wings in 2004. His first assignment was as an instructor on the CT-156 Harvard II aircraft, tasked with teaching basic and advanced flight training skills to NATO students and subsequently serving as a course director and standards officer.
In 2007, Marco was selected to serve as a member of Canada's National 9-Plane Aerobatic Team, the Canadian Forces Snowbirds. Flying the Canadair CT-114 Tutor, he flew the Team's 4 and 7 jet for the 2008-2011 seasons.
Marco retired from the RCAF in 2011 and continued his flying career as an airline first officer, assigned to fly Airbus 320 and Boeing 737NG types throughout North America, the Caribbean and Europe.
Staying true to his roots, Marco acquired a vintage 1952 Mk IV Harvard in 2010 and joined the Canadian Harvard Aerobatic Team, debuting its first 4 plane formation aerobatics performance in 2014.
Marco is an ATPL rated, FAA instructor pilot with over 6,400 hours of flight time logged in over 30 types. He joined the Stallion 51 team in 2017 as an instructor in the T-6 Texan, P-51 Mustang and L-39 TurboJet.
WHAT ARE YOU WAITING FOR? FLY THE TEXAN TODAY!
Contact us today to schedule your T-6 Texan flight.