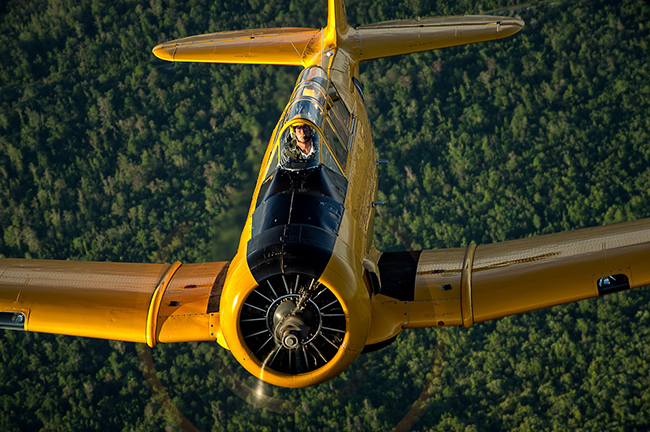 North American T-6G Texan
Stallion 51's T-6 Texan "THANG" (Territory of Hawaii Air National Guard)
44-81274 was built in the North American Aviation Dallas, Texas plant as a "D" model and delivered to the United States Army Air Force on 12/23/44
T-6 S/N 44-81274 spent much of its pre-"G" conversion years at airbases in the south at Gunter Field, Alabama, Maxwell Field Alabama and Independence Field, Kansas.
1952: NAA converted "THANG" to a "G-Model in Fresno, CA
1953: Now T-6G re-entered USAF as S/N 52-8218 serving in the Air National Guard at Floyd Bennett, NAS, New York.
1954: S/N 52-8218 went to Hawaii to officially become "THANG"; Territory of Hawaii Air National Guard
1956: "THANG" dropped from USAF inventory
1957: "THANG" Purchased by Walter Dillingham.
1st Civilian Owner N5632V s/n 197-022
Walter Dillingham and his family are famous in Hawaii. Many streets, buildings and Air Fields are named after him. In 1948, Dillingham Airfield, a small Air Force base on the North Shore of Oahu, Hawaii was named for his son Captain Henry Gaylord Dillingham, a B-29 pilot who was killed in action over Kawasaki, Japan on July 25, 1945.
1983: Conrad Yelvington Daytona Beach, FL. Conrad F. Yelvington serves, as Chairman of the Board of Conrad Yelvington Distributors Inc. Mr. Yelvington has been active in Florida since 1948. He served in United States Navy from 1946 to 1951.
1997: Owner -Airshow pilot Elliot Cross
2004: Owner -Stallion 51 Corporation
WHAT ARE YOU WAITING FOR? FLY THE TEXAN TODAY!
Contact us today to schedule your T-6 Texan flight.