Texan Facts
A total of 14,130 Texans were built from January of 1940 to August 1945. Approximately 500 T-6s are in flight worthy condition today.
North American Aviation designers and engineers Dutch Kindleberger, Lee Atwood and H.R.Raynor designed and built the Texan prototype, the NA-16, in nine weeks.
First NA16 (T-6) flew on April 1, 1935
BC-1 first flight 2/11/38
SNJ-1 was received by the NAVY on 9/23/38
AT-6 delivered on 6/24/39
The NA 16 design was exported to Japan in August 1937 and was developed into the Japanese airplane code named "Oak".
The USSR received T-6s starting in 1942.
American pilots spent 100 hours training in a T-6 during WWII
RAAF Flight Lt. Jack Archer shot down a Zero while flying his Wirraway on a routine recon mission on 1/1/43 over New Guinea.
1st post war conversions were in 1948 of the T-6C making them into the G models at the Inglewood, California plant.
Texan most wide spread and versatile aircraft ever built. It was used by more air forces in the world than any other airplane from 1938 until 1996 when the Union of South Africa Air Force became the last air force in the world to retire their T-6 Harvards.
More than 17000 variations built referred to as NA-26, BC-1, NA-44, AT-6, SNJ, Texan, J-Bird, Harvard, Wirraway, Ceres, Mosquito and Pilot Maker.
NA prefix built in California and NT prefix built in Dallas.
North American Aviation started in Dundulk, MD 1/1/35
LT-6Gs Korea Mosquitoes 1952 completed 11063 sorties operated by the Tactical Air Control Squadron.
The remanufactured T-6G was the USAF primary trainer from 1951 to 1958.
Specifications:
Stressed skin low wing construction monoplane.
Engine: 600 hp Pratt& Whitney R1340 9 cylinder air-cooled radial
Maximum Speed: 240 mph
Cruise speed: 150
Range: Approximately 750 miles
Gross Weight; 5300 pounds
Fuel Capacity: 140
+5.67 g -2.33 g
Service ceiling: 21,500
Sources: North American Aviation Aircraft 1934-1998 by Norm Avery, North American NA-16/AT-6/SNJ by Dan Hagedorn, T-6 by Peter Smith, North American T-6, SNJ, Harvard and Wirraway by Peter Smith.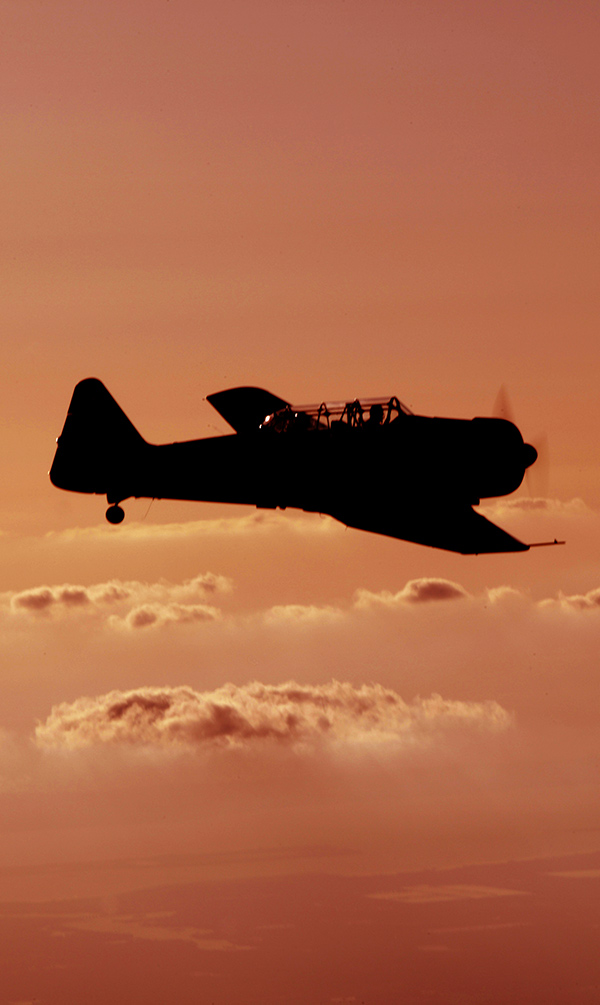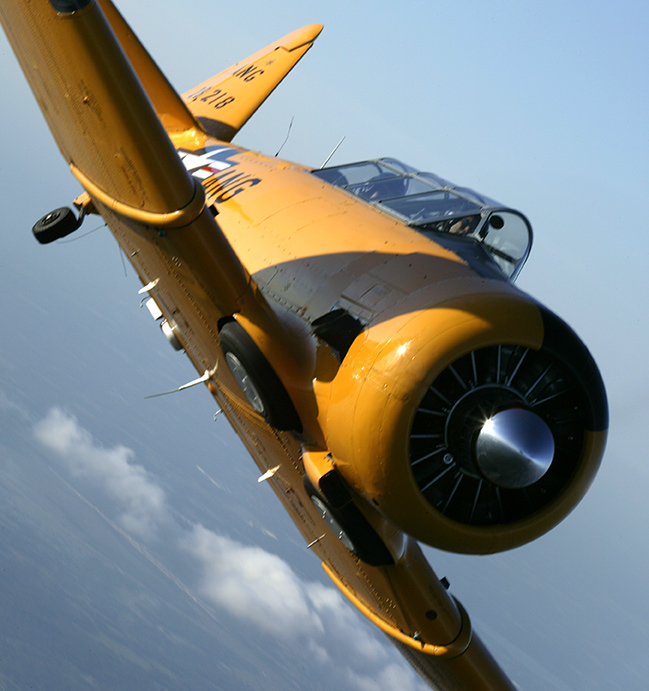 WHAT ARE YOU WAITING FOR? FLY THE TEXAN TODAY!
Contact us today to schedule your T-6 Texan flight.