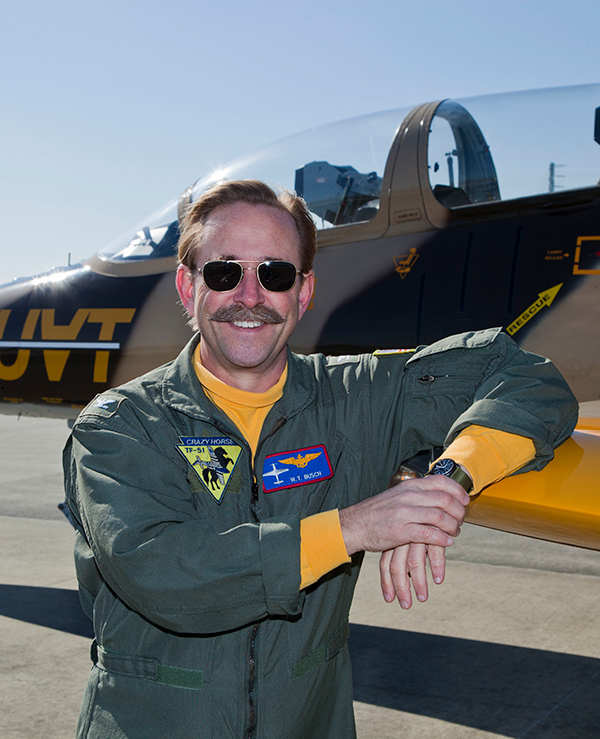 Dr. William Busch
Dr. William T. Busch, Capt, USN (ret), grew up in the Midwest and upon graduation from college entered the US Navy as an aviation officer candidate in Pensacola. After graduating from Navy Jet Flight School, he received his Naval Aviator Wings of Gold in 1978 and deployed as a pilot flying missions from the deck of the aircraft carrier USS Forrestal. While there, he became a wing qualified landing signal officer (LSO) and the squadron NATOPS Standardization Officer. In 1982 he was selected as the Atlantic Fleet Pilot of the Year.
Dr. Busch then left the fleet to participate in the Navy Health Professions Scholarship program, consisting of five years of medical training followed by Naval Flight Surgeon School. After receiving his Naval Flight Surgeon Wings in 1988, he returned to fleet service as a dual-designated naval aviator/flight surgeon. There, in addition to his clinical duties, he was a flight instructor pilot and re-qualified as an aircraft carrier pilot and LSO.
In 1995, Dr. Busch completed training in ophthalmology at the National Naval Medical Center and became board-certified. He served as the chairman of ophthalmology at Naval Hospital Camp LeJeune and in 1998 became the chairman of Navy Aerospace Ophthalmology at the Naval Aerospace Medicine Institute in Pensacola. In 2001, he became the head of the Navy Aero-Medical Dual-Designator Program and continued to fly as a current naval aviator while also serving as the senior flight surgeon at Naval Air Station Jacksonville. He retired as a Navy captain in 2005 after 29 years of military service.
Dr. Busch has accumulated over 5,000 flight hours and logged time in over 30 different types of military aircraft. He has over 1,000 hours in WWII-era vintage aircraft and hundreds of aircraft carrier landings. He is an airline-transport-rated pilot, a certified flight instructor and advanced ground instructor. Additionally, he is an associate fellow of the Aerospace Medical Association and is an FAA-designated senior aviation medical examiner (AME).
Currently Dr. Busch serves as the Corporate Officer in charge of the daily endeavors or AvDoc 51, which is a fully operational aviation and pilot-orientated medical clinic that focuses on the care and well being of aviators and flight crews. Provides and Specializes in FAA Aviation Medical Certification, Ophthalmologic and Vision Care and Aviation Physiology Training.
INTERESTED IN FLYING WITH US?