The "Pilot Maker"
The T-6 Texan is arguably the greatest training aircraft ever created. Originally built in 1935, it was used until the early 1990s to train hundreds of thousands of pilots from over 34 countries. The popularity of the Texan as a trainer earned it the nickname "Pilot Maker". Anyone who has flown the aircraft will testify that it is more difficult to master the handling techniques of the Texan than most front line WWII fighters. It is this type of trainer that breeds champion level combat aviators.
The Texan evolved from the North American NA-16. The NA-16 was designed to compete against other aircraft as a basic combat trainer. Soon after, the NA-16 was changed to the BT-9 and several other designations before becoming the BC-1 or basic combat trainer. After a few more technological advances, the BC-1 evolved into the BC-2. The BC-2 is the airframe that formed the classic lines of the T-6/SNJ. Shortly after the BC-2, the Texan was born. The aircraft had several variations from the AT-6A through the T-6G and the Navy equivalents ranged from the SNJ-2 through the SNJ-7.
Even after WWII, most allied forces had some form of the Texan in their inventory and although the aircraft was mainly used as an advanced trainer, some used it as a front line fighter. In the Korean War the aircraft was used for close air support, firing smoke rockets to mark targets for incoming fighter-bombers. These Texans were dubbed "Mosquitoes".
The Texan is a delight to fly. Many hobby aviators have discovered it to be a wonderful personal aircraft. It is the gateway to all heavier tail wheel fighters. Many fighter collectors keep a Texan in their stable just to keep their skills honed. With this kind of respect for the aircraft, it is no wonder why the Texan is arguably the finest creation from North American Aviation.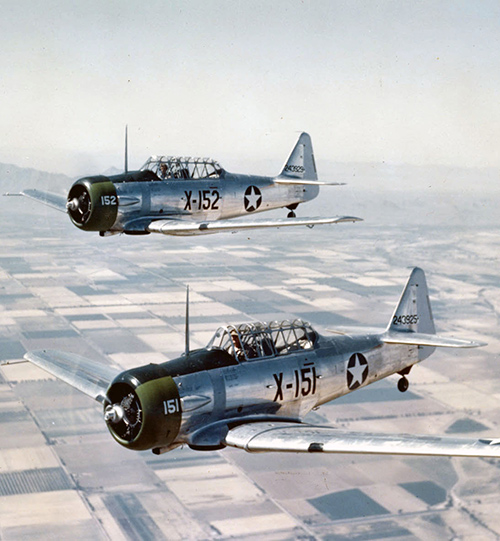 WHAT ARE YOU WAITING FOR? FLY THE TEXAN TODAY!
Contact us today to schedule your T-6 Texan flight.