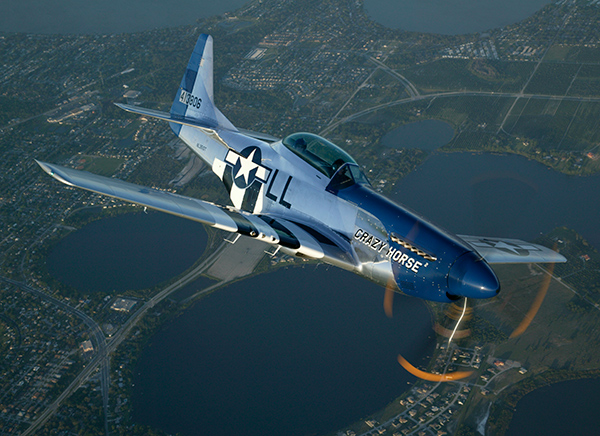 Crazy Horse 2
TF-51D-30NA | NL351DT | 44-74502A
Crazy Horse 2 was built in the North American Aviation Inglewood, California plant and served in the Royal Canadian Air Force from 1950 to 1960 and was then released into civilian hands. The aircraft was highly modified in the early 1970s and raced by Ken Burnstine as #34 Miss Foxy Lady. John Crocker flew the aircraft from 1978 until 1990, racing it as Sumthin' 'Else when he won the Reno National Championship Air Races Unlimited class in 1979. In 1997, Dick Thurman purchased the aircraft and had Richard and Peter Lauderback of Stallion 51 Maintenance rebuild it as a dual- cockpit / dual -controlled TF-51, naming it Kentucky Babe. It won the best P-51 at both Sun N Fun and Oshkosh in 2000.
In 2005, Stallion 51 purchased the aircraft and repainted it like the original Crazy Horse, and also wears the colors of the 487th Fighter Squadron, 352nd Fighter Group of the 8th Air Force out of Asche, Belgium.
WHAT ARE YOU WAITING FOR? GET FLYING TODAY!
For more information about flying the legendary P-51 Mustang, please contact us below: