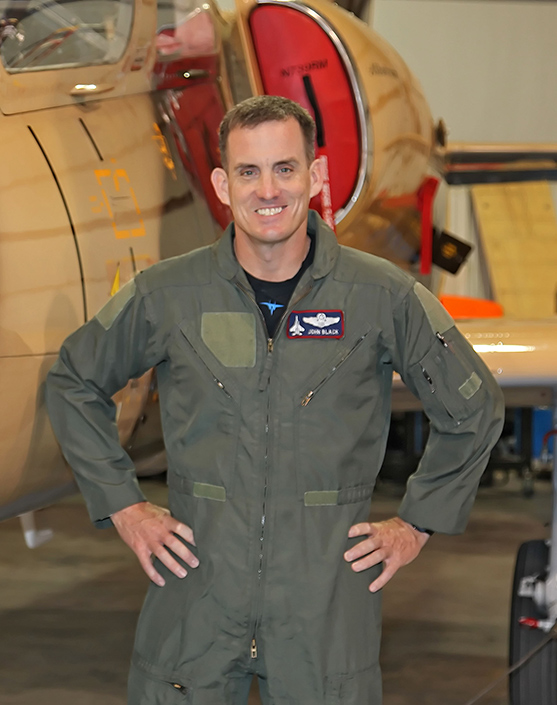 John Black
John Black currently flies the TF-51 and L-39 for Stallion 51 Corporation. John credits his love of flying to his father and growing up in the "Birth Place of Aviation." His first airplane ride was in 1974 during the very first Dayton Air Show.
John learned to fly in Citabrias in 1984 when he was 17 at a little airport called Moraine Airpark, just south of Dayton. He took his first aerobatic lesson in a Super Decathlon before he had his private license.
John attended college at Embry-Riddle Aeronautical University in Daytona Beach where he received a Bachelor of Science in aircraft engineering technology and completed the USAF ROTC program. John was commissioned in the Active Duty Air Force in August 1989. He completed pilot training in April 1991 after a year of flying T-37s and T-38s, and he was selected to fly the F-15C.
Taking a turn back to his roots, John bought a Super Decathlon, which he calls "Blue," in 2002. He began flying air shows in the Decathlon in 2004, and the past several seasons have seen him flying in shows throughout the country, from Florida to his home state of Ohio.
John holds an ATP and flight instructor certificates. He has flown over 60 types of aircraft, including more than 7,000 hours and 6,600 sorties, over the past 32 years.
John is now retired from military service. During his 21 years in the Active Duty Air Force and Florida Air National Guard, all of his assignments were flying F-15As and F-15Cs. His assignment locations included Kadena Air Base in Okinawa, Japan; Tyndall Air Force Base in Florida; and Jacksonville International Airport in Florida. He amassed 3,600 hours in the Eagle, and he was an F-15 mission commander, instructor and evaluator, earning the rank of lieutenant colonel.
WHAT ARE YOU WAITING FOR? GET FLYING TODAY!